During grad school I was drawn away from Kerouac, not out of disinterest, but just simply because I was so damn busy. Now that I have some more time and mental energy, I've jumped back "on the road." Every time I read one of his books, I find it simultaneously challenging and rewarding. There are always slow parts, as well as some repetition of themes and events. But then there are passages that glow and make the whole thing more than worthwhile. I think this is due to Kerouac's method of writing. He wanted a style that would mimic the improvisation of jazz, the confession of his Catholic upbringing, and the concept of not revising what you have written. The third element — not going back and second-guessing your first impulse — may have come from some of his literary inspirations like Goethe, or it may have been more clearly expressed by Henry Miller, an American writer who reached literary height in the early 1930s.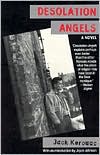 The first time I saw Kerouac clearly outline his own style was in Desolation Angels, when he made it especially clear that most of his books were written with little to no hope of ever being published. In fact he was writing for the sake of writing, because he believed that was the reason life was bestowed upon him. But that's not the topic I mean to address here. For those not familiar with Angels, it's a very long novel for Kerouac — about 400 pages — and it's roughly divided into two books: "Desolation Angels" and "Passing Through." A section in the first book called "Desolation in Solitude" basically contains his notebook writings from a summer spent on wildfire watch atop a mountain in Washington State.
I was actually more fond of the "Passing Through" parts, since they contain some of his most straightforward writing, in comparison to his more poetic, abstract work. One of the most interesting sections in Angels came a few pages from the end, when he talks about his friend Cody Pomeroy (the fictionalized name of his good friend Neal Cassady). The section points to why Cassady was so influential in Kerouac's life:
"He is a believer in life and he wants to go to Heaven but because he loves life so he embraces it so much he thinks he sins and will never see Heaven. [...] You could have ten thousand cold eyed Materialistic officials claim they love life too but can never embrace it so near sin and also never see Heaven. [...] They sin by lifelessness! [...] Cody had a wife whom he really loved, and three kids he really loved, and a good job on the railroad. But when the sun went down his blood got hot:—hot for old lovers like Joanna, for old pleasure like marijuana and talk, for jazz, for the gayety that any respectable American wants in a life growing more arid by the year in Law Ridden America. [...] He filled his car with friends and booze and pot and batted around looking for ecstasy…" (pp. 405-406).
This passage got me thinking about what we perceive to be normal and abnormal when it comes to behavior and lifestyle. In many ways the Internet is making weird things — like indie music, for example — more commonplace. But are unique people and things actually being molded to fit within the status quo? Is there even a real Outsider in America anymore? Or have we all be corralled into our homes, discouraged from embarking on roaming adventures, turned on to comfort and technological luxuries, and told to live quietly and obediently? I haven't decided yet. Maybe we're just learning to vent our weird behavior at the correct time and place, such as at a music festival. After all, they have become extremely common as this decade progressed — and now even Michigan has Rothbury.
My next Kerouac project will be to read Visions of Cody, a book that I've heard Kerouac would have preferred On The Road to be like. It's supposed to be an alternate take on his travels with Cassady, transcribed in part from tape recorded conversations between the two.

Similar Posts: